Konzert 2016:
30. April 2016, 20 Uhr
Angelika-Kauffmann-Saal, Schwarzenberg
Unser Herz schlägt für die Musik.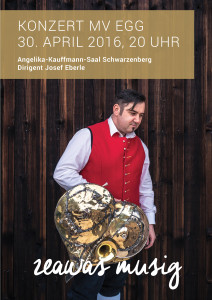 Für Fanfarenklänge, für sanfte Melodien, für den Ritter mit der traurigen Gestalt und seine Dulcinea. Für virtuose und bezaubernde Klarinettentöne, für Sommerfeeling und Filmmusik. Für beschwingte Tänze und Lieder zum Mitsummen.
Kommt und hört und spürt den Herzschlag.
Wir freuen uns!
Karten gibt es bei der Sparkasse Egg und bei allen Musikantinnen und Musikanten!
Zeawas Musig, Zeawas Christian!
Geboren 1973 in Schwaz in Tirol "entdeckte" Christian Schiestl als Soloklarinettist bei der Militärmusik Vorarlberg das schöne Ländle, studierte Klarinette am Landeskonservatorium bei Prof. Alois Brandhofer und am Tiroler Landeskonservatorium bei Prof. Max Bauer. Seit dem Jahr 2001 hat er den Musikverein Egg in sein Herz geschlossen und trat schon des Öfteren als virtuoser Solist und Zungenschlagkönig auf. Er ist Lehrer an der Musikschule Bregenzerwald und seit 2008 Dirigent des Musikvereins Bizau.
Programm:
Fanfare Hayabusa – Satoshi Yagisawa
Concerto for Clarinet – Oscar Navarro
Solist: Christian Schiestl
Don Quixote – Robert W. Smith
1. The Quest
2. Dulcinea
3. Sancho and the Windmills
4. The Illumination
—PAUSE—
The March from 1941 – John Williams
Summer in Central Park – Frank Bencriscutto
Silver Screen – Paul Hart
Funiculi-Funicula Rhapsody – Luigi Denza
Konzert 2015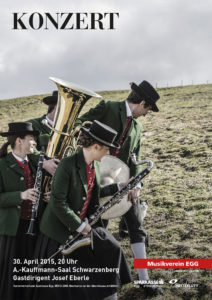 Klang
Treten einzelne Töne nicht nur nebeneinander, sondern miteinander auf, entsteht Klang.  Durch die unterschiedlichen Instrumente und Instrumentierungen entwickeln sich sodann Klangfarben. Werden diese Klangeindrücke vereinigt und an einem Abend dargeboten, wird ein Klangerlebnis geschaffen.
Erleben Sie, wie lateinamerikanische, unbeschwerte, lebendige und filigrane Melodien dramatischen, spannungsgeladenen Passagen weichen. Hören Sie, wie eine traditionelle, noble englische Hymne sich mühelos vor einen traditionellen Tanz der Bauern aus den Bergen Puerto Ricos reiht. Spüren Sie, wie das Gute vom Bösen, dem dunklen, pulsierenden asymmetrischen Rhythmus abgelöst wird.
Lassen Sie sich von der Welt des Klanges und dem abwechslungsreichen Klangspektrum des Musikvereins Egg unter Gastdirigent Josef Eberle fesseln und begeistern.
Programm:
Evolutions | Alfred Reed
The Undanced Ballet | Frigyes Hidas
The Land of the Long White Cloud "Aotearoa" | Philip Sparke
Pomp and Circumstance Nr. 1 | Edward Elgar/Arr. Henk van Lijnschooten
Eine kleine Yiddishe Ragmusik | Adam Gorb
Second Suite for Band | Alfred Reed
Eugenia Lopez | Bernardo Adam Ferrero
Konzert 2014
Motto:  Musik & Wettbewerb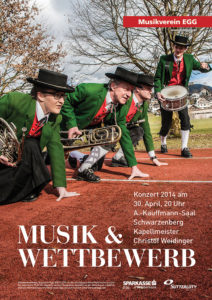 Programm:
Banda Sucre   |   Giovanni Orsomando
Sinfonischer Marsch
Be Thou My Vision   |   David R. Gillingham
Symphonic Metamorphosis   |   Philip Sparke
über Themen von Saint-Saens' 3. Sinfonie
Danse Funambulesque   |   Jules Strens, Insrt.: Gert Buitenhuis
Solo de Concours   |   André Messager, Arr.: Christian Schiestl
Solist: Markus Tomas Klarinette
Divertimento   |   Robert Cichy
Galopp   |   Jaques Offenbach, Arr.: John R. Bourgeois
aus "Genevieve de Brabant"
Three Dance Episodes   |   Leonard Bernstein, Transk.: Marice Stith
aus "On the Town"
Konzert 2013
Motto: Zu Besuch
Programm
Einzugsmarsch der Bojaren | Johan Halvorsen
Courtly Airs and Dances | Ron Nelson
Incantation and Dance | John B. Chance
Tower of Babel | Hayato Hirose
Candide Overture | Leonard Bernstein
Die lustige Witwe | Franz Lehar, Arr. E. Suzuku
Memories of Henry Mancini | Arr. Naohiri Iwai
Weekend in New York | Philipp Sparke
Konzert 2012
Motto: Solo, Soli, Tutti
Programm:
Armenische Tänze Part 1 | Alfrred Reed
Neapolitan Serenade | Martin Ellerby
Solo für Flöte | Solistin: Elena Thomas
Konzertstück Nr.1 in f moll | Felix Mendelssohn-Bartholdly, Arr. J. Jiskra
Opus 113 für Klarinette und Bassetthorn | Solisten: Markus Helbock & Markus Tomas
Fantasy Variations | James Barnes
Pequeña Czarda | Pedro Iturralde, Trans. R. Niese
Solo für Altsaxophon | Solistin: Juliane Rützler
Figures Sonores | Henk Badings
Tahiti Trot | Dmitri Schostakowitsch, Trans. J. Dubois
Paris Montmatre | Arr. Toshio Mashima
Konzert 2011
Motto: Traumhafte Musik – Sagenhafte Geschichten
Geschichtenerzählerin: Katharina Ritter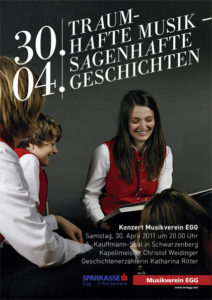 Programm:

Galop from The Limpid Stream | Dmitri Shostakovich, Trans. David Miller
Elements of Nature | Hermann Pallhuber
Trans. David Miller
Pflichtstück Stufe D, Bundeswettbewerb Feldkrichen (Kärnten)
Pilatus Mountain of Dragons | Steven Reinecke
Trans. David Miller
The Legend of Sleepy Hollow | Andrew Boyser Jr.
Aladdin Suite | Carl Nielsen, Arr. Johan de Meij
I. Oriental Festival March
II. Aladdins Dream – Dance of the Morning Mist
III. African Negro Dance
Elisabeth – The Musical | Michael Kunze & Sylvester Levay, Arr. Johan de Meij
Yiddish Dances | Adam Gorb
Freiwahlstück Stufe D, Bundeswettbewerb Feldkirchen (Kärnten)
I. Khosidl
II. Terkishe
III. Doina
IV. Hora
V. Freylachs
Zugabe:
Country Band March | Charles Ives, Arr. James B. Sinclair
Freiwahlstück Stufe D, Bundeswettbewerb Feldkirchen (Kärnten)
Konzert 2010
Motto: Unterhaltungsmusik…. Zeit zum Entspannen
Vocals: Theresa Pitt/Kanada & Simon Marlow/England
Programm:
Suite For Variety Orchestra | Dmitri Shostakovich, March Arr. Johan De Meij
I. Lyric waltz
II. Dance No2
III. Finale
Lincolnshire Posy Percy | Aldridge Grainger
Pflichtstück Landeswettbewerb 2010 Stufe D
I. Lisbon
II. Horkstow Grange
III. Rufford Park Poachers
IV. The Brisk Young Sailor
V. Lord Melbourne
VI. The Lost Young Lady
Danzón no.2 | Arturo Marquez, Transk. Oliver Nickel
Selbstwahlstück Landeswettbewerb 2010 Stufe D
The Incredibles | Michael Giacchino, Arr. Lars Erik Gudim
Down with Love | Harold Arlen & Edgar Yip Harburg, Arr. Lars Erik Gudim
aus Hooray for What!
Vocalduett
Colours Of The Wind | Alan Menken & Stephen Schwartz, Arr. Lars Erik Gudim
aus Pochahontas
Voc. Theresia Pitt
Flaklypa – Medley | Bent Fabricius Bjerre, Arr. Lars Erik Gudim
Unforgettable | Irvin Gordon, Arr. Toshio Mashima
Vocalduett
He's A Tramp | Sonny Burke & Peggy Lee, Arr. Lars Erik Gudim
aus Lady And The Tramp
Voc. Theresia Pitt
Ain't That A Kick In The Head | Sammy Cahn & Jimmy Van Heusen, Arr. Lars Erik Gudim
aus Ocean's 11
Voc. Simon Marlow
Strike Up The Band | George Gershwin, Arr. Peter Kleine Schaars
Voc. Theresia Pitt
Konzert 2009
Motto: Von Stadt und Land
Programm:
Il Giudizio Universale | Camillo De Nardis, Arr. Antonio E. Cafarella
Tulsa | Don Gillis
East Coast Pictures | Nigel Hess
I. Shelter Island
II. The Catskills
III. New York
Paris Sketches | Martin Ellerby
Aegean Festival Overture | Andreas Makris, Arr. Major Albert Bader
Carribbean Hideaway | James Barnes

Konzert 2008
Motto: Mensch! Tierisch!
Programm:

El Golpe Fatal | Dirk Brossé
Aquarium | Johan de Meij
Of Sailors And Whales | W. Francis McBeth
Karneval der Tiere | Camille Saint-Saëns , Arr. Yo Goto
Die diebische Elster | Gioacchino Rossini , Arr. G.L. Gardini
Haji | Stephen Melillo

Konzert 2007
Motto: Inspired by People
Programm:
Spartacus | Jan Van der Roost
A Movement for Rosa | Mark Camphouse
Catch me if you can | John Williams, Arr. J. Bocook
Solist: Martin Franz
Hans Christian Andersen Suite | Soren Hyldgaard
Carmen Fantasy | Georges Bizet, Arr. E. Suzuki
Disney Festival | Arr. Toshio Mashima
Konzert 2006
Motto: Jubiloso – Jubiläumskonzert 2006
Programm:
Ceremonial | Ferrer Ferrran
I. Entrada
II. Marcha
III. Danza y Final
Clarinet in Motion | Steve Willaert
Solist: Christian Schiestl
Bacchanale | Camille Saint-Säens
aus Samson und Delilah
Serenade in B | W. A. Mozart
für 12 Bläser und Kontrabaß
Jubilee Overture | Philip Sparke
Danza Sinfonica | James Barnes – Pflichtstück Sufe E, Landesmusikfest 2006
Slava! | Leonard Bernstein
Konzert 2005
Motto: Synergien
Programm:
Seahawk | Jan Hadermann
Concertino | David R. Gillingham
for four percussion & Wind Ensemble
Percussion: Susanne u. Karl Gamper, Marcel Fetz, Markus Lässer, Evelin Sutterlüty
Harry Potter and the Prisoner of Azkaban | John Williams
The Eagle's Flight | James Curnov
Theaterfanfare Egg 2004 | Christian Schiestl
Three Dance Episoldes from "On the Town" | Leonard Bernstein
My favorite things | Richard Rodgers & Oscar Hammerstein
Ellington! | Duke Ellington